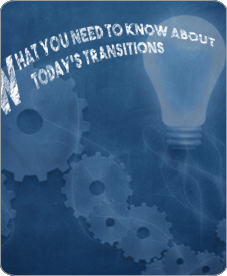 What You Need To Know About Todays Transitions
WHAT DOES A TRANSITION MEAN TO YOU?
If you're like most dentists, transitions means buying in when you're young and selling out when you're ready to retire.
IS THE OLD WAY ALWAYS THE BEST WAY?
Times have changed, and as far as transitions are concerned, they've changed for the better.
Today, the old concept of a practice transition has been expanded by leading practices to include mid-career "value" transitions. While traditional transitions deal with transferring practice ownership, the new concept of value transitions is all about accelerating and leveraging practice growth and opportunity.
WHAT CAN A VALUE TRANSITION DO FOR YOU?
With a value transition, in as few as five years, a practice can integrate an associate, create a partnership, almost double in value, and unleash an economic windfall for the owner doctor as high as a million dollars in some cases!
The new doctor coming in joins a dynamic practice in its prime, is supported by a team motivated to ensure success, incurs significantly lower debt and can end up owning a practice worth hundreds of thousands more than the cost.
Patients benefit too through continuity of quality care by providers they know and trust. This isn't just win-win. It's unbelievably win-win-win!
NOTHING STAYS THE SAME – INCLUDING PRACTICE VALUE
Your practice is the single most important asset you own – not for its "sale value" but as an economic engine. No other business in America gives the same levels of income and lifestyle to a single owner-operator. Yet, the magnitude of this asset is so undervalued it is almost laughable. If you broker your practice today, what would it be worth?
---
ARTICLE TOOLS

PRINT

SHARE
---
200% of annual revenues
150% of annual revenues
100% of annual revenues
50% to 70% of annual revenues
The answer for most practices is D – somewhere between 50 percent and 70 percent of annual revenues. This works out to be the equivalent of only two, or maybe three, hygiene appointment fees for each active patient you have.
The reason for the diminished value in dental practices is that we don't look at the value the right way. The traditional definition of value is based on selling at the end of a career when we just want out. By that time, we have aged, our team has aged, and our patients have aged. Often we have cut back on our time in practice and slowed down. The bottom line is that the practice is producing well below capacity and sells at a discount.
Consider how much "unused" value was allowed to escape in the preceding years before retirement. Value transitions allow dentists to capture that value and stop it from slipping away.
What today's most successful practices have mastered is two things: the idea that practice value can only be optimized if the intensity and focus are there to keep it moving forward, and that a value transition is an ideal way to make this happen.
These doctors aren't even thinking about retirement yet – they are doctors in their forties or thirties, and even some in their twenties. They've learned that a transition is right for the practice when the value is right, regardless of age, community, practice type or size.
CAN A VALUE TRANSITION WORK FOR YOU?
Transitions are not "one size fits all" because every transition opportunity is unique and depends on a variety of considerations. But there are clear signs that tell you when you have an opportunity to leverage value through a transition. If any of the following signs apply to you, you may be due (or overdue) for a transition.
TRANSITION SIGN #1: CURRENT PRACTICE VALUE
New dentists face unique challenges: they can't work as fast as senior doctors because their clinical skills have not yet been tempered by experience. They can't get the same case acceptance because their people skills have not been honed. And they are in debt, often well over $100,000.