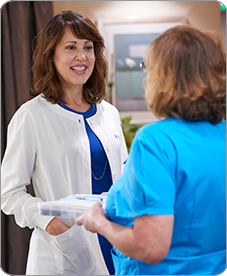 To Lease, No More
After years of leasing her space, Dr. Janette Pinedo seized the opportunity to buy.
Lease renegotiations can be tricky for dentists. Then again, Janette Pinedo's went so well that she ended up buying a different space than the one she'd been leasing.
How exactly does that work? To get there, we'll need to take a step back. Pinedo, owner of Janette Pinedo and Associates in Torrance, Calif., hired a broker about two years before her lease was due to help her hash out the terms of the new lease. Nervous about her ability to negotiate the lease on her own, hiring a broker seemed like the right move.
"I'm not the best with negotiations," Pinedo said. "And dentists in general tend to be a little too nice – we're not good at the cutthroat stuff. So about two years ago I started to look around for a broker."
---
ARTICLE TOOLS

PRINT

SHARE
---
After beginning her career as an associate, Pinedo leased practice space for about 15 years as a solo practitioner. After a few years, she brought on an associate, and a few years later, another. All three are working mothers, and finding a manageable work-life balance has always been important to Pinedo. Together, they shared responsibilities and kept in mind the high quality of care that was important to them. Pinedo refers to the three as the Charlie's Angels of dentistry.
So, as the space she was in two years ago approached the end of the lease, she had a lot on her mind. It needed renovation, but she was still interested in staying there on a new lease. The broker Pinedo hired helped sweeten her deal – convincing the landlord to drop her rate and make other concessions. Then, even with the improved deal on the table, the broker gave Pinedo some interesting advice: You should consider buying a commercial space.