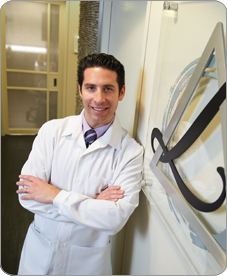 The Ultimate Patient Experience
Every patient gets first-class treatment at Marc Lazare DDS, PC, in New York City
When Marc Lazare, DDS, MAGD, decided to build a new dental practice in New York City, N.Y., he wanted the office to be as comfortable as possible for his patients. The doctor spared no expense adding equipment, technology and décor that would contribute to a relaxing and stress-free dental experience.
---
ARTICLE TOOLS

PRINT

SHARE
---
From the terraces overlooking the city where patients can enjoy a beverage before their appointment to the VIP lounge where they can take private phone calls and answer emails, patients are given an unparalleled experience at Marc Lazare DDS, PC. "We tried to create an atmosphere that's comfortable and enjoyable, and that puts our patients at ease," Dr. Lazare said. "We want our patients to know how much we really care about them."
Bringing a Vision to Life
Though he came from a family of three generations of dentists, Dr. Lazare didn't immediately gravitate toward dentistry. He had a multitude of interests, ranging from art, writing and business to medicine and teaching. As he considered his future career possibilities, he realized that dentistry combines art with medicine and would allow him to pursue all of these different passions.
After graduating from dental school at New York University College of Dentistry, Dr. Lazare completed his residency at North Shore University Hospital in Long Island. He stayed on as chief resident while working for two dental practices as an associate and teaching at North Shore University Hospital and New York University College of Dentistry. A couple of years later, he decided to open his own practice in New York City. As his practice grew, one of the doctors he worked with during his associateship approached him about a partnership. He decided to partner with the doctor, merging his New York City practice with the other doctor's Great Neck, N.Y., practice.
Dr. Lazare built up a successful general practice, continued to teach at the hospital and lectured at study clubs, schools and dental conventions throughout the United States. He also began contributing to numerous magazines and dental journals and earned the designation of Master of the Academy of General Dentistry, which demonstrates his commitment to attending dental education courses to expand his knowledge and stay current with the rapid innovations in the dental industry.