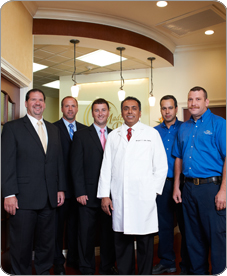 Leave Your Worries At the Door
If you were a patient of Dr. Narpat Jain's several years ago, you knew when you walked in the doors of East Madison Dental, you would be greeted by his friendly staff and receive exceptional care. But if you were a potential new patient driving by Dr. Jain's dated-looking Dumont, N.J., office building, you might think twice about going inside for treatment - if you could even find a parking space!
Dr. Jain knew he needed an updated facility that reflected his skills as a dentist; however, locating the perfect building site was a years-long process. And hiring the right contractors was a challenge. Thankfully, with the help of his Patterson team, the doctor was able to navigate the many twists and turns of building a dental practice, and is now happily located in the office of his dreams.
A New Career
Narpat Jain, DMD, FAGD, wasn't always a dentist. In a prior career, he owned an IT consulting business and provided networking and systems integrations to clients. While working for a dentist, Dr. Jain witnessed a reconstruction for a cancer patient and immediately was drawn to the dental field. Within a month, he had applied for dental school and was on his way to starting a new career.
---
ARTICLE TOOLS

PRINT

SHARE
---
In 1997, Dr. Jain opened the doors to East Madison Dental. "A lot of dentists buy their practices, but I wanted to do it my way. I started out with patient number one," he said.
Wherever it would benefit the patient and improve treatment outcomes, Dr. Jain applied technology in the practice. From digital radiography and PowerPoint case presentations to CEREC digital impressioning and GALILEOS 3D X-ray, "We've always been at the forefront of using technology," he said.
From the beginning he envisioned a practice with multiple doctors, and invited an endodontist and a periodontist to provide their services at East Madison Dental. This enables patients to complete all of their treatments through one practice. "That improves patient care," Dr. Jain said. "It encourages the patient to solve all of their problems as a whole, rather than split up treatment over a few years. When they can do it all at once, treatment goes better."
Dr. Jain's warm personality and his dental philosophy helped to quickly grow the business. "I love making people feel good about themselves. There's a sense of satisfaction when you do good work," he said.