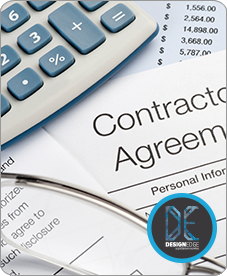 The Dental Practice's Guide to CONSTRUCTION CONTRACTS
Are you considering a new office construction or remodel?
Become informed about the different types of construction contracts you'll encounter along the way. Plus, learn the lingo that's used in construction contract clauses.
WHAT IS A CONSTRUCTION CONTRACT?
The construction contract is an important part of your new office construction or remodel. A formal agreement executed between the owner and general contractor, the contract defines work to be done (called scope of work), the cost to do the work, the expected construction schedule and the terms under which the contract is to be administered.
---
ARTICLE TOOLS

PRINT

SHARE
---
What are the types of construction contracts?
Lump Sum |
The lump sum contract is very common in the construction industry. In it, the scope of work is clearly defined and the general contractor provides exact pricing for that work. If there are labor rate or material cost changes during construction, the contractor bears that cost. In a lump sum contract, the owner can be at risk for increased financial investment should they change the scope, or schedule, after signing the contract – referred to as a change order.
Cost Plus |
A cost plus contract is also popular in the construction industry, and has many variations. These include guaranteed maximum price (GMP), percentage and incentive. In general, the cost plus contract is structured so the owner pays straight cost for the defined scope of work, and also for any overhead or profit for the project as well.
Time and Materials (Unit) |
Time and materials contracts are just as they sound: contracts that clearly define the cost of materials and labor needed to complete the project. These contracts are more typically used in the dental industry on smaller scope projects, as the risk for the owner can be high, and the scope of work not fully defined yet. Make sure to review the material and labor rates proposed by the general contractor, as many times they will add significant markup to both in this contract scenario.