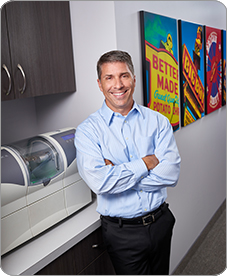 Time Well Spent
Ideally, every minute that Dr. David Juliani spends in his practice will be efficient and productive
Time is fleeting. Spend it well.
That's the premise on which David Juliani, DDS, built his new practice. For nearly 20 years, Juliani practiced out of one leased space, then another, adapting his workflow and his technology on the fly to meet his needs.
In retrospect, it wasn't ideal. He was ready to practice out of his own space – one that he could design from the floor up and build equity in via mortgage payments instead of rent. Juliani's work as a CEREC trainer also leads to a significant amount of travel, making his in-practice time even more important.
---
ARTICLE TOOLS

PRINT

SHARE
---
"My whole goal in building a new office was to make the most of the days that I'm here," Juliani said. "Because of my travel schedule I sometimes have to push procedures out, which means I get stacked up on my days in the office. When that happens I need to be as efficient as possible. I wanted to use technology wherever possible to refine those efficiencies for me."
One such possibility presented itself to Juliani when he attended CEREC 30 in Las Vegas in September of last year. It was there that Sirona Treatment Centers were unveiled for North American audiences. "I had already settled on another operatory package, but immediately I knew Sirona offered a better fit for my practice," he said. "From the first moment I was thinking about how I would be able to use them in my office and everything they would offer me."
If you're unfamiliar with Sirona Treatment Centers, stick with us. Sirona Treatment Centers aim for total operatory integration, from chair, to delivery system, to imaging and CAD/CAM. No matter what services you provide now or plan to in the future – implantology, endodontics or CEREC – all can be integrated through the Sirona Treatment Center's two models.
"The ability to switch procedures on the fly was one of the things that drew me in the most," Juliani said. "Whatever the restorative need, whether it's endodontic, implant or extraction, it's all integrated into the chair. It minimizes the amount of equipment I have to have in the operatory. If I find out a patient needs an endo treatment, I can literally swap out a handpiece and do that procedure then and there. In the past, that would have required a reschedule for an appointment, maybe even weeks later. That's exactly the kind of efficiency I was looking for."