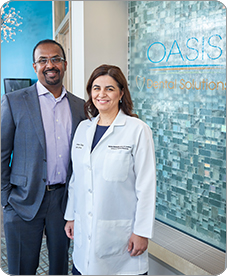 Grand Plan
A Boston-area dental office uses cutting-edge technology and progressive design to emphasize patient comfort.
Along the Merrimack River in Lawrence, Mass., amongst myriad businesses in its revitalized Riverwalk District, is Oasis Dental Solutions. With over 4,000 professionals just minutes away, it's an ideal landing spot. And it's here that Entela Cika, DMD – and her business partner and husband, Sanjay Thiagarajah – worked to realize her dream of building a practice that's visually arresting, yet wholly serene. "We know that most of the dental offices in the area were built or renovated in a traditional fashion, so we wanted to bring something completely new to our office," she said. "We wanted a different design that didn't take away from the space we have."
So, instead of covering the charm of century-old properties that housed iconic Pacific Mill and Wood Mill in the early 1900s, Cika opted to leave HVAC exposed in select portions of the building. The result? A more spacious feel throughout, and a decisive nod toward modern design.
---
ARTICLE TOOLS

PRINT

SHARE
---
Stress-free visits
Cika's vision for Oasis is rooted in the name itself; it's an acronym for the kind of culture she wants to develop in her staff, and the kind of experience she wants for every patient who walks through the door. "We want to be a place that's dedicated to excellence, compassion and mutual trust in a serene environment – an oasis," she said. "Each letter of our name stands for a point of emphasis – 'O' for optimal care, 'A' for appreciation, 'S' for solutions, 'I' for innovation, and then 'S' for success."
The first thing you notice when you walk into the office is the waterfall that trickles down against a blue tile background, providing soothing ambience in the expansive reception space. The bright color palette meshes with abundant natural light to create a warm welcome. Cika repeatedly mentioned the importance of a relaxing environment where patients experience a departure from daily life, having the opportunity to exhale in spa-like surroundings.
"Not only do we want to educate patients so they can make good decisions about their oral health, we want to put them at ease, removing some of the dental phobias that they come in with," she said. "I came from a background where people in my community only went to a dentist when a problem arose. For me, personally, I'm sensitive to this and try to put myself in the patient's shoes with the environment we create and service we provide."
Part of bringing a vision to life is finding a team of people who can catch it and carry it out on >> a daily basis. And since Cika has spent over 15 years working in nearly every position of a practice – from patient coordinator to insurance coordinator to dental assistant, dentist – she knows exactly what she's looking for.