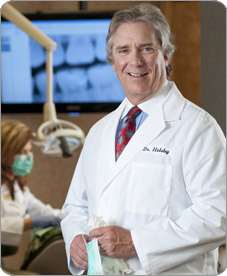 A Journey from Good to Great
A book and a dream inspired Paul Helsby, DDS, to build the practice of his dreams at age 60.
In early 2008, Dr. Helsby had been practicing in the same five-operatory office with a partner for 25 years. The Winter Park, Florida, practice was a success, but there was no room to add new technology or additional operatories. After the last of his three sons left home for college, Dr. Helsby knew he had a choice to make: should he retire, or should he finally build his dream office?
A gift he received from his brother-in-law, the book Good to Great by Jim Collins, provided the inspiration Dr. Helsby needed to dive into his new adventure. Inside the book was a very powerful message: "good is the enemy to great." At that moment, Dr. Helsby knew he wasn't ready to give up in his quest for a truly great practice. "It was one of those things that just hit you. At that moment, I realized that I had a really good practice, but it didn't reflect what the book described as great," he said. So, he and his wife, Kathy (at the time a non-practicing dentist) sat down and wrote up a list of everything they thought would take their office from just good to outstandingly great.
---
ARTICLE TOOLS

PRINT

SHARE
---
A practice built by CEREC
Ten years ago, Dr. Helsby had just brought CEREC into his practice, thanks to plenty of encouragement and support from his longtime Patterson Sales Representative Chris Lawrence. "I talked to him about every aspect of CEREC continually," said Lawrence, who has worked with the doctor for 13 years. "When he got it in his practice and he saw the benefits of it, he and his partner decided to buy another one 30 days later because of the increased usage by both doctors."
Over the next 10 years, Dr. Helsby built his practice around CEREC, learning everything he could about CAD/CAM single-visit dentistry. Dr. Helsby saw the amazing benefits of CEREC unfold in front of him. "It has paid for itself many times over," he said. "Our revenue skyrocketed."
Still practicing in a small, outdated practice, Lawrence encouraged the doctor to upgrade his office to reflect the high-quality dentistry taking place within. The income made from CEREC allowed the doctor to branch out on his own with a new, state-of-the-art practice. "CEREC built my new practice," said Dr. Helsby. "It's one of the big reasons I'm still practicing today."
The new CEREC Acquisition Center (AC) powered by Bluecam is the centerpiece of Dr. Helsby's new 2,900-square foot practice, Winter Park Smiles. One of the first CEREC users to upgrade to the CEREC AC, Dr. Helsby performs an average of five to eight CEREC procedures per day. He equipped each of his five operatories with a 43-inch flat screen monitor, which allows patients to view their CEREC restoration being designed in real time. Dr. Helsby even placed a video camera over his CEREC MC XL, which streams to the flat screens in the operatories, allowing patients to watch their crown being fabricated in the comfort of their chair.