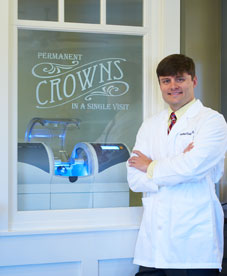 The Winds of Change
Editor's note: From April 25 through April 28, 2011, one of the worst tornado outbreaks in history ravaged the eastern United States, killing more than 300 people and destroying thousands of homes and businesses. April 27, 2011 was the most destructive day of the outbreak, with 60 tornado touchdowns in Alabama alone.
Wednesday, April 27, 2011 is a day that Jonathan B. Echols, DMD, will never forget. What started out as a typical day ended in tragedy when an F4 tornado flattened his four-operatory dental practice in Cullman, Ala.
---
ARTICLE TOOLS

PRINT

SHARE
---
Unsure of where to turn for help, Echols held tight to his faith and the belief that everything was going to be all right. "You don't know what to do when you're hit with a tragedy like that," Echols said.
The doctor's deep faith - and a partnership with Patterson Dental - sustained him through some of the most difficult days of his life. "Patterson took a big part in helping me get back on my feet," he said. "The whole Patterson team was really proactive in helping me jump-start my practice from this tragedy."
An Unexpected Tragedy
Early on the morning of April 27, tornado activity was already occurring just a few miles south of Cullman. "It was an eerie day and we were a little edgy," said Echols. He and his staff continued to see patients throughout the morning while keeping an eye on the weather. By mid-morning, meteorologists were reporting that it was the worst tornado outbreak they'd ever seen. Echols decided to close the office for the afternoon to allow his staff to be home with their families.
Around 2:00 p.m., a tornado warning was issued in Cullman. Echols took shelter in the basement of his home with his wife and children. While waiting out the storm, he watched the local news, which showed footage of a tornado getting closer to the town by the minute. When the power went out, Echols knew that the damage was serious.