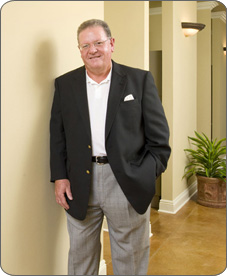 Ensuring Unlimited Possibilities
After 27 years of dentistry, Dr. Michael Lee's wish has come true. At age 56, Dr. Lee made a leap even the youngest, most determined dentists may avoid. He went from debt-free owner of a successful, well-established Baton Rouge, La., practice to proud (but no longer debt-free) owner of a brand-new, technology-filled practice.

"I was in a small building and it just wasn't very efficient. We were using every quarter inch of the building," said Dr. Lee. "I didn't feel like I was taking advantage of new equipment and technology." Dr. Lee started his journey toward the new practice with his Patterson Equipment Specialist Mike Talley, who also helped him set up his first practice in the early 1980s. Talley helped Dr. Lee realize that his old practice was too small and under-equipped to be a viable purchase option for an associate or new dentist.

Dr. Lee chose to work with Patterson for his new office because of his history with Talley. "I'd known Mike for a long time. He helped me with my first building. It was a natural transition. I really didn't consider going with any of the others," said Dr. Lee.
Pre-construction savings and a streamlined building process
GO Zone post-Hurricane-Katrina economic recovery incentives allowed Dr. Lee to save money on his new practice by accelerating depreciation on equipment. Dr. Lee, Talley, New Orleans Branch Manager Chris Counce and Dr. Lee's CPA all worked together to maximize Dr. Lee's tax savings.

Dr. Lee credits Talley with simplifying the entire building process. In addition to saving him money on equipment, Talley saved Dr. Lee money on his land purchase. He designed a practice that fit onto one lot rather than the two neighboring lots Dr. Lee had
---
ARTICLE TOOLS

PRINT

SHARE
---
initially planned to purchase. Talley also created wooden templates for pipe, drain and conduit placement to ensure they would be exact in all of Dr. Lee's five new operatories. During construction, Talley took pictures of all the wall supports and sent them to Dr. Lee via e-mail so he would have a permanent record of their location when it came time to hang lights and monitor arms. Talley also visited the construction site every day to check on overall progress. "Mike really impressed my builder. So much so that the builder is courting Mike to build his next new office," said Dr. Lee.

Dr. Lee and his staff moved into the brand-new, 2,100-square-foot Dr. R. Michael Lee Family Dentistry practice on St. Patrick's Day 2008, just five months after beginning construction and just one-half mile away from his old practice.