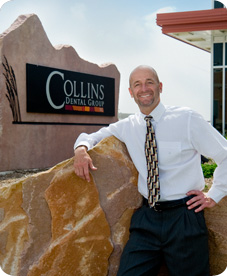 Upsizing Midwestern Style
Dr. Dennis Collins set out to build one of the finest, physical dental facilities in the Midwest, to fill it with the best dentists and to perform the best dentistry possible. True to his intentions, Collins Dental Group P.C. opened on January 14 with all the grandeur that comes with king-size square footage, from the free-flowing harmony of Prairie style architecture inspired by Frank Lloyd Wright design, to the practice-enhancing qualities of state-of-the-art dental technology.

This one-of-a-kind, 16-operatory office measures 10,500 square feet – but not so big that it loses sight of the Midwest values deeply engrained in residents of the DeKalb/Sycamore area in Illinois. You'll see those values in the way Dr. Collins treats his patients and staff, and in the loyalty to his four associates, whom he considers practice owners. You'll also sense the trust he places in the people who share his work ethic and vision through the relationship with his builder, and dental supply company – his partner in dentistry for over 26 years.
Addressing the void
---
ARTICLE TOOLS

PRINT

SHARE
---
Dr. Collins turned to Patterson Dental and Equipment Specialist Jim Plescia to equip his office in 1988. This was office number two; a ballast that caught fire destroyed the first office. Dr. Collins and Plescia had worked together before, when Plescia was with another dental supply company. The two shared similar ideals for moving the practice forward – collaboration that only strengthened within Patterson's total-package approach to doing business.

This rebuilt office, considered state of the art at the time, led to substantial practice growth over 19 years. But the doctor's other businesses were blooming as well. He owns grain and swine farming operations and is also interested in real estate, most recently developing a 14-acre commercial area called Prairie Professional Park – anchored by the prime lot on which his new office now stands.

Despite his business successes, Dr. Collins felt that his dental practice came up short in one major area: technology. "I wanted to be digital and to address the state-of-the-art needs for patients," he explained, "and the building's space and structure wouldn't allow for those things to happen."
Executing creatively
The handpicked team tasked with constructing his office of the future included Steve Irving (Irving Construction), a builder the doctor knew well; Patterson's Jim Plescia for dental design equipment and cabinetry, as well as Patterson technology and installation specialists; Medical Design Specialist Dan Donile; and architects Lew Sur and Mark Zinni (Zinni Architects, Ltd.), who specialize in Frank Lloyd Wright designs.

Dr. Collins instructed from the onset that there would be no constraints on costs associated with benefiting the patient. "I had extreme confidence in my team to create the office I wanted," he said. "When you can say that your dental supplier has your best interests at heart, it takes away a lot of worries. I never had to worry about receiving a good deal or the right information about equipment or technology."