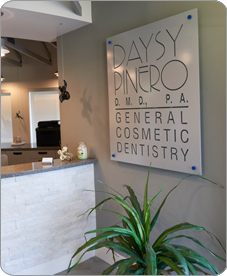 "I really trust my interior designer," Pinero said. "He helped me with my first office and my house, and really gets me. I told him I wanted to have a really nice contemporary office where patients would also feel relaxed and secure. I wanted open spaces and artists' sculptures because I love art and think art is also part of dentistry."
With the remodel came the opportunity to change up her team's workflow. Pinero and her Patterson team drafted a floorplan with five operatories to be outfitted immediately, and five more to be outfitted in the future. At her previous practice, the operatories had double-sided cabinets for the dentist and the dental assistant; in the new practice, Pinero eliminated the double-sided option.
She also eliminated the hygiene room. "I decided to make all the rooms exactly the same. No hygiene rooms, no doctors' rooms. Instead of moving patients from room to room, they stay in the chair and we come to them for each needed service. It's more efficient," Pinero said.
---
ARTICLE TOOLS

PRINT

SHARE
---
Pinero gained even more efficiency when she upgraded her CEREC Bluecam to CEREC Omnicam paired with an MC XL inLab unit. She is a CEREC trainer in Florida and has worked with the technology for more than five years. "Female CEREC trainers are not that common but continuing education is very important to her," Cruz said.
Eddie Quintero, Patterson Dental equipment specialist, worked with Pinero to help her make her equipment selections for the new practice, which included A-dec equipment for the operatories. "I love A-dec equipment and how they stand behind their product," said Pinero, who has primarily used A-dec equipment since dental school.
One of her favorite pieces of new equipment is a Sirona XG 3D CT scan. "I think dental technology is moving at such a fast pace, it can be hard to keep up. To really be top-notch in dentistry these days, you need to have a CT scan," Pinero says.
She also installed Acteon SoproCare intraoral cameras at every chair, which she and her team use to help educate patients about how to take better care of their teeth. "The new technology helps us be better dentists and communicate with our patients," Pinero said. "If patients don't understand what you're talking about, they are not going to commit to taking better care of their teeth. With the new technology, you can show them pictures of the plaque buildup on their teeth, and they understand right away."