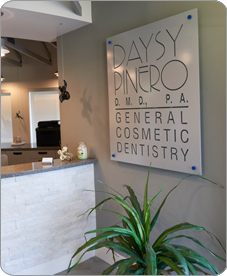 Comfort as a Cornerstone
Dr. Daysy Pinero had always dreamed of growing her practice into a full-fledged multi-specialty dental practice. See how that vision came to life through a Coral Springs, Fla., renovation and with assistance from Pinero's team of trusted experts.
When Daysy Pinero, DMD, graduated from dental school in 2003, she had a specific vision in mind for the future. She knew she wanted her own practice and, at that practice, she wanted her patients to feel so comfortable, they wouldn't even think they were in a dental office.
---
ARTICLE TOOLS

PRINT

SHARE
---
"Dentistry is not just about doing fillings, crowns and implants. What I love about it is how it touches people's lives. I have always had this dream of a patient walking through my door and me changing their life in a positive way because they felt healthier and looked better," Pinero said.
A comprehensive vision
Born in Caracas, Venezuela, Pinero graduated with honors from the Central University of Venezuela with a degree in dentistry. She moved to the United States in 1999 and attended Nova Southeastern University, where she again graduated with honors, and earned a Doctor of Dental Medicine (DMD) degree.
Pinero had always dreamt of having a comprehensive, family-oriented dental practice with a focus on patient comfort. As a new graduate, however, she felt she was financially unable to start her own practice right away, so she spent two years as an associate dentist in Florida working at other offices.
In 2005, she was ready to break out on her own and worked with Patterson Dental to set up her first practice, in Coral Springs, Fla. Ileana Cruz, a Patterson Dental territory representative, has worked with Pinero since that first practice and cites the doctor's determination as a key to her success. "Daysy came out of dental school very determined to start her own practice. When, after a few years, she was ready to do so, Patterson helped her. She is a good dentist and a savvy businessperson," Cruz said.
The practice that Pinero built was perfect for a start-up. "It was a beautiful office," Pinero said. "I was married but I didn't have kids yet so the office sort of became my baby."
But Pinero soon found that her "baby" was growing fast and that she was quickly outgrowing her current space. "My goal, and the way I always pictured my practice, was to cover everything under one roof, so it's a comprehensive practice but also specialized," Pinero said. "At the time, I had two full-time dentists, a periodontist and myself, and I knew I might add more people, so I started looking for bigger places."