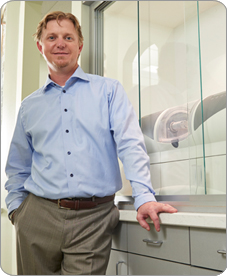 Gone Tech in Texas
Dr. Reid Darnell picked up and left a successful practice in New Mexico to bring individualized, high-tech care to patients near his childhood hometown.
In early 2013, Reid Darnell, DDS, hand-picked the Dallas suburb of Southlake, Texas, for the location of his next dental office. At the time, however, the Darnell family was living in New Mexico, actively growing their thriving 13-year-old practice in the town of Albuquerque. While considering this significant move for Darnell Dentistry, Darnell promptly brought his Patterson Dental team on board to facilitate the project. Patterson had been exceptionally instrumental with planning the Albuquerque office.
"I grew up in the Dallas/Fort Worth metroplex," Darnell said. "Moving closer to family was our main reason for choosing to leave New Mexico."
---
ARTICLE TOOLS

PRINT

SHARE
---
From the beginning, Darnell and his wife Veronica had a crystal-clear vision that the Patterson team helped bring to life through executing the design and building phases of the project. The goal was to combine a warm, modern environment with cutting-edge technology, ultimately providing extraordinary individualized care and education for all their patients.
Darnell's relationship with Patterson goes back to his original practice: "Everything I did at the previous office I did with Patterson," he said. "I had such good one-on-one coverage in New Mexico, and it's really just carried over to here."
Building from scratch
From Patterson Dental Equipment Specialist Ian Carlson's perspective, the Darnells had one primary goal in mind: They wanted an upscale, yet inviting, practice.
The location chosen by the couple was a duplex in a high-end business area of Southlake. The structure required a complete gutting and new construction from the remaining shell, with the final, optimal design resulting from a collaboration with the Darnells and their Patterson team.