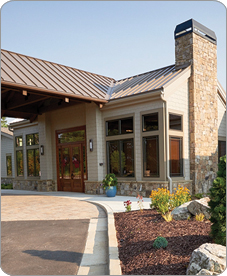 Modern Meets Rustic
Three doctors collaborated to build a new Georgia dental office and the result is something to behold.
What do you get when you combine one Patterson territory representative, an equipment specialist, three dentists, and a clear vision for the future? In the case of BGW Dental Group in Gainesville, Ga., the result is a stunning 11,900 square foot dental practice with 18 operatories. As if the sheer size of the practice isn't grand enough, the foyer features stone fireplaces on either side of the entrance, located in two sitting areas that look like something you'd find in a luxury cabin.
---
ARTICLE TOOLS

PRINT

SHARE
---
The new building - with its high ceilings, natural light and modern, rustic furnishings, is the creation of three dentists who make up the "B", the "G" and the "W" of BGW Dental Group - Richard G. Bennett, Jr., DMD; Cindy Fulenwider Greene, DMD; and Ryan M. Wood, DMD, along with their Patterson team, including Territory Representative Jeff Smith and Equipment Specialist Deborah Adams, who helped make the project come together seamlessly. "The Patterson team was beyond amazing," said Greene. "A new build can be stressful at times, and we expected it to be. But they made it very enjoyable and exciting. They held our hands through the whole process."
A family practice expanded
Discussion for the practice expansion began in 2006 when Greene joined Bennett at the family practice that he had purchased from his cousin after it was passed down by his uncle. Anticipating the need for a future expansion, the doctors discovered the perfect plot of land in a highly visible, prominent location across the street from the local hospital. Bennett purchased the land in 2007 but plans remained dormant for a number of years while they rode out the recession.
In fall 2012 the doctors met with Smith and Adams, who presented them with an action plan including a financial breakdown, a timeline and key contacts that could help make their vision a reality. "I wanted them to know that Patterson could provide the total package," Smith said. "With a project this size there are a lot of big numbers floating around and I wanted to put things into perspective."
Smith felt certain that if the doctors built the practice right, their patient base would grow. "There's no formula for it," he explained. "I just know from experience that what you put into a practice, you get back." Smith's prediction was correct, but a lot of steps were necessary before getting to that point.