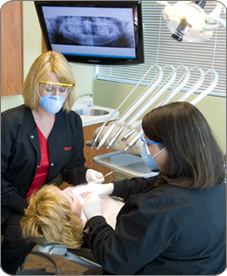 Going above and beyond
Dr. Garner went with a four-operatory design for her practice – two treatment rooms for hygiene and two for operative treatment. Each treatment room is equipped with A-dec chairs and delivery systems, computer monitors and mounted televisions. The semiprivate rooms are separated with a divider wall, significantly reducing noise in the rooms and halls while increasing patient comfort and privacy.

Equipping her practice with the latest equipment and technology was a top priority for Dr. Garner. "I had the privilege of working in a practice where the owner was well-versed in
---
ARTICLE TOOLS

PRINT

SHARE
---
new dental technology and I wanted to maintain that, if not exceed it, in my new office," she said. "I was used to a certain caliber of dentistry and I wanted to continue providing that level of dentistry with the addition of even more state-of-the-art equipment."

Dr. Garner succeeded in her quest for excellence. Her 2,251-square-foot practice is packed with the newest technology designed to provide maximum patient comfort and convenience: Schick digital imaging, EagleSoft Practice Management Software, CAESY® Patient Education Systems, Planmeca ProOne Digital Panoramic X-ray and Planmeca Intra intraoral X-ray. "When it comes to technology, the cost is not the determining factor with Dr. Garner. She bases her decision on whatever she feels is best for her patients," said Reyes.

Dr. Garner also implemented the latest CEREC technology in her new practice. "CEREC® 3D MC XL milling unit is quieter and mills faster," she said. "That's been a really nice addition to the practice because we're able to be more efficient with patient care and the crowns are fabricated quickly."
Comfort meets function
To create a comforting and relaxing atmosphere in her office, Dr. Garner chose warm paint tones in khaki, moss green and brick red for the reception area, hall and treatment rooms. Cabinets in a wild cherry finish lend a feeling of warmth and coziness to the treatment rooms. Patients are treated to a refreshment bar and may watch the ceiling-mounted televisions wearing headphones during procedures. "I try very diligently to provide an atmosphere where patients are relaxed, so that they will want to keep coming back," said Dr. Garner.