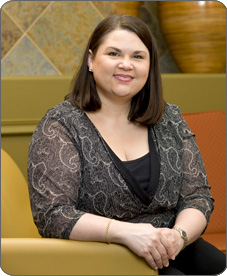 New Beginnings
Dr. Gina K. Garner experienced two new beginnings this year: she became a dental practice owner and a mom at the very same time.

In February 2008, Dr. Garner gave birth to her first child – just a month after construction began on her new practice. Though she was on maternity leave, she remained 100 percent involved in the building of her new practice. "It was challenging...I had two new 'babies' at one time," she said.

Patterson Sales Representative Monetta Reyes was impressed with Dr. Garner's strength during two life-changing transitions. "I never saw her angry or impatient," Reyes said. "When adversity comes, she welcomes it."
A hometown success
A 1998 alumna of the University of Texas Health Science Center at San Antonio Dental School, Dr. Garner returned to her hometown of The Woodlands, Texas (a Houston, Texas suburb) after graduation, where she took a job as an associate for an established dental practice. During her 10 years at that practice, Dr. Garner built up a long list of patients, including former classmates and teachers, friends from church and sorority sisters.
---
ARTICLE TOOLS

PRINT

SHARE
---


In late 2007, Dr. Garner felt it was time to branch out on her own and open a solo practice. She chose to locate her practice in a newly constructed three-story professional building in The Woodlands across the street from the largest hospital in the area. Because her location was adjacent to a major interstate, Dr. Garner hoped she would attract patients from other suburbs of Houston, as well as The Woodlands.

Dr. Garner had worked with Reyes and Patterson Equipment Specialist Skip Fortune at her previous practice. After selecting her location, she turned to them for their expertise on design and equipment. "I picked Patterson because of the people. I knew that they would help me make the best selections and listen to what I wanted instead of pushing materials or equipment I wasn't interested in," she said.
After a three-month construction process, Dr. Garner began seeing patients at her new practice, Gina K. Garner, DDS, PC, in April 2008. She hit the ground running and immediately attracted dozens of new patients, including many she had seen at her previous practice. "She had patients waiting to see her," Reyes said.